Campaign video for #NTHouseproud launch event in September, 2014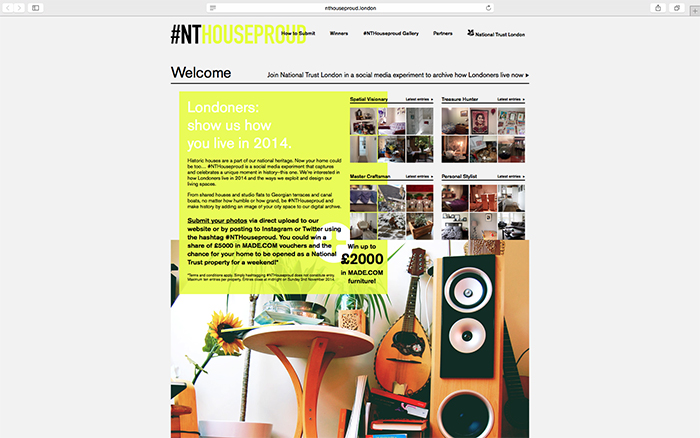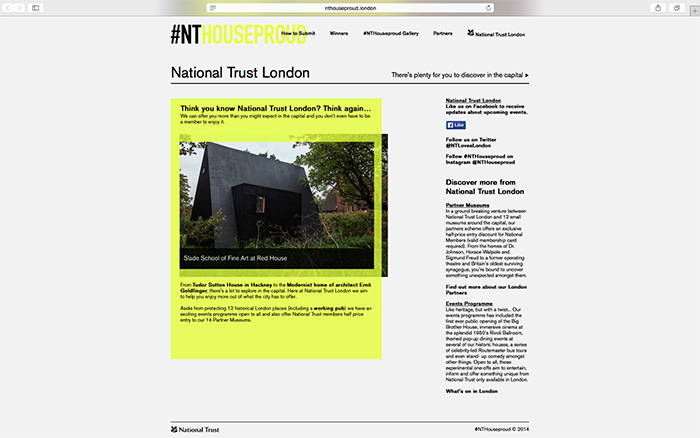 Website launched in Autumn 2014
We developed the persona and animated the user journey. I was responsible for this video making. This video was transformed into a live campaign video later next year.
Team members:
Irene Yen-Hsuan Shih | Multimedia Designer, Royal College of Art
Channing Ritter | Art Director, Royal College of Art
Kit Stiby Harris | MA Architecture, Royal College of Art
Anna Alexander | MA Fashion Womenswear, Royal College of Art
#NTHOUSEPROUD
Social Media Campaign - for Londoners
Live website: www.nthouseproud.london
My Responsibilities: Concept Development, Personas, User Journey, Multimedia Design, Video Making & IAB Ad Units (2014)
Client: National Trust London
Partners: The London Design Festival, The British Library, MADE.COM
Press: The Sunday Times
The Challenge:
The client, National Trust, as one of the largest and oldest charity in the UK, would like to raise the profile of the National Trust in London, increase the number of members and provide more activities for the 'Liberal Opinions Demographic' to participate.
How can we make National Trust relevant in an urban environment and celebrate the love of London through owned and unowned properties?

The Strategy:
We approached the target audience with an engaging and exciting social media campaign concept:
#NTHouseproud: Join National Trust London in a social media experiment to archive how Londoners live now!
Historic houses are a part of our national heritage. Now your home could be too… #NTHouseproud is a social media experiment that captures and celebrates a unique moment in history—this one. We're interested in how Londoners live in 2014 and the ways we exploit and design our living spaces.
From shared houses and studio flats to Georgian terraces and canal boats, no matter how humble or how grand, be #NTHouseproud and make history by adding an image of your city space to our digital archive.
 
The Delivery:
We launched a website #NTHouseproud and released a series of video and IAB ad units, to promote this social media campaign online and offline. It was one of the key activities in London Design Festival 2014.
* #NTHouseproud was born out of an AcrossRCA collaboration with National Trust, led by Joe Kerr. Head of Critical & Historical Studies. RCA graduate Channing Ritter acted as Art Director, and Irene Yen-Hsuan Shih acted as Multimedia Designer, working with National Trust London to further develop #NTHouseproud into a working concept. AcrossRCA is an interdisciplinary programme of activities undertaken by Royal College of Art students.